In 1961 Fred Gore and his father "Pop", decided to help out the local farmers and carve a business out of necessity.
The farmers in the area including themselves were butchering at their farms out in the weather and trying to get all the meat cut and packaged in a short amount of time.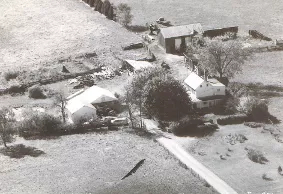 Gore's Farm and Meat Processing Plant
in Stephens City, Virginia.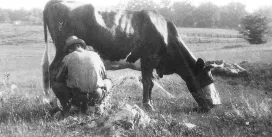 Pop Gore milking his cow at the farm.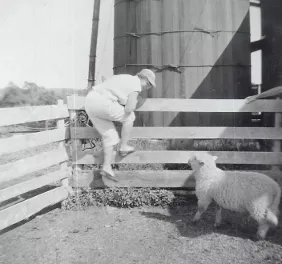 'Nonnie' Gore running from a lamb.
This is how our business Gore's Custom Slaughter and Processing, Inc. began.
Fred and his father opened their doors and began custom butchering in a new facility built on the family farm in Stephens City off Double Church Road. Dedication and trust became synonymous with the Gore's name and business grew into what the next generation of Gore's; Jeff and Joe took over in 1980. When Fred became ill and their grandfather retired, Jeff and Joe built the business and further expanded the business to two locations with the addition of a federally inspected plant in Edinburg. The newly acquired Foltz Edinburg facility opened up avenues for Gore's to bring our delicious blend of whole hog sausage and wholesale meats to restaurants and groceries up and down the Shenandoah Valley.
Our infamous Gore's sausage has been sold to help local schools with their fundraisers (FFA) and cooked to the delight of hungry patrons of the Winchester Kiwanis Breakfasts. We offer a butcher shop containing all fresh cuts of beef and pork, and deli meats and cheeses. All while still offering the service that started the company. We still do custom butchering and offer BBQ pigs and cook our own scrapple, puddins and souse. All which we deliver to local grocery and "Mom & Pop" stores around our area.
In 2011 Gore's expanded again and opened Gore's Fresh Meats, offering fresh retail cuts of meat, smoked meats, lunch meats and cheeses to the Stephens City area. After 7 years of steady success, we moved to a larger facility in Stephens City and now have even more to offer, with a growing emphasis on locally grown and created items. 2020 turned the world upside down and certainly made local food processing abundantly important when the large food supply chain broke. We were thrown into a storm of waves of retail customers in panic from empty grocery shelves to a monsoon of farmers, producers and customers looking to get beef, hogs and lamb processed. Our quick thinking team responded with plans to schedule and source meats like never before. We are proud to have helped our community through the panic and will be working far into the future to guarantee meat processing for our local farmers.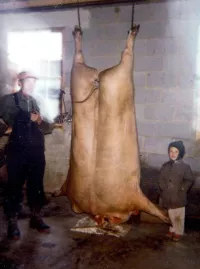 Pop and Jeff with a big hog.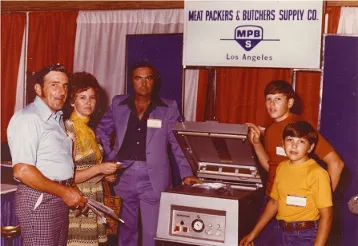 Gore family (Fred, Ruth, Jeff & Joe)
at a Meat Packers & Butchers Conference.
Starting in 2007, the fourth generation of Gores came back to the family business after earning degrees at Virginia Tech in agriculture. Levi, Jeff's son excels as a general manager, maintaining equipment, Foltz slaughter lead, ordering, introducing new procedures and technologies. Josh, Joe's son leads the Edinburg Foltz Plant as the beef processing head, retail and general manager ensuring inspection requirements are met and exceeded. The Gore family has grown and now rely on Ethan Dienst, Jeff's son in law to manage slaughtering at the Stephens City Plant as well as be an integral part of the whole operation at all 3 locations. The female side of the Gore family is also involved, not only filling in at the locations, but keeping the business's office running in "Pop" Gore's old farmhouse. It's certainly a family operation, but without the other 30+ dedicated staff, Gore's wouldn't be what it is today.
The backbones of the operation are the strong and silent types that have been a part of the business for decades. Folks like Ms. MaryAnn, who runs the wholesale operation in Edinburg, Randy Flowers, who breaks down carcasses and manages the entire processing operation at the Stephens City Plant, and Ms. Diana, who is a Gore's staple in the retail end at Edinburg. We are so fortunate to have so many other wonderful hands who's skill and technique are unmatched in the area, knowledge that is invaluable and compassion needed to guide customers through the meat experience. Our crew impresses everyday and we are incredibly proud of them.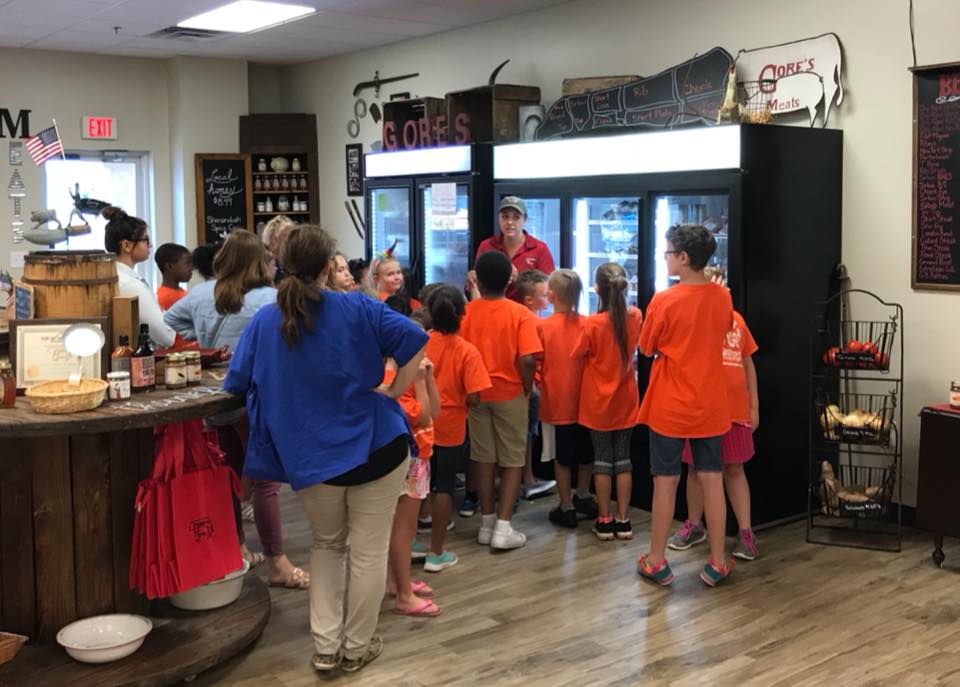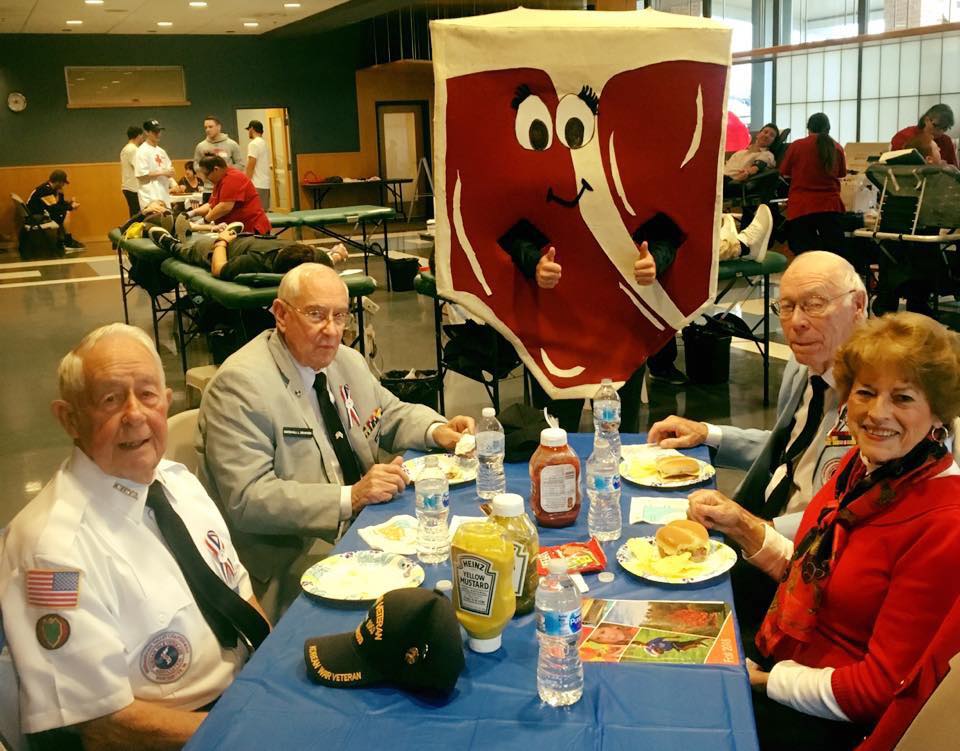 Each decade that Gore's Meats has been in operation we have found that slow and steady progress, with an emphasis on quality service and products is the key to success. We were honored with the Greater Good "Small Business of the Year" award in 2018 by the Top of Virginia Regional Chamber of Commerce for our outstanding business ethics, creativity, economic impact and community support. And we plan to continue using that recipe and continue to grow in the years to come.
We at Gore's are very proud of our meat that we offer our customers and the service that we strive for so that our patrons return.
We have a wonderful group of folks that work with us and have been blessed with the ability to work hard and provide our community with a healthy and safe food for their families.
We would like to thank all of our customers for almost 60 years of your continued support and would like to invite those of you new to the area to our business so that we can open the door to fresh beef and pork to you as well.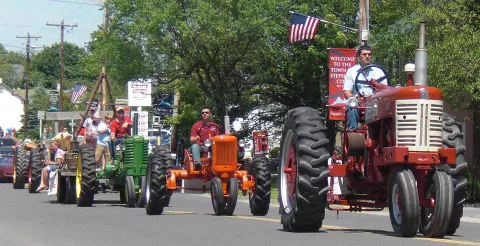 Gore Family in the Newtown Heritage Parade with the tractors they still use on the farm.